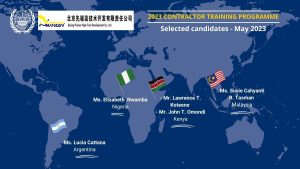 UPDATE (26 May 2023) The following candidates have been selected:
Rank
First name
Surname
Sex
Country
Country Class.
2 x Environmental Survey
1
Lawrence T.
Koteene
M
Kenya
–
2
Elizabeth
Nwamba
F
Nigeria
–
Reserve candidate for Environmental Survey
R1
Peterlis
Osamba
M
Kenya
–
2 x Geological Survey
1
Lucia
Cattana
F
Argentina
–
2
Susie Cahyanti B.
Tasman
F
Malaysia
–
Reserve candidate for Geological Survey
R1
Toochukwu P.
Chidiebere-Odoh
F
Nigeria
–
1 x Geophysical Survey
1
John T.
Omondi
M
Kenya
–
[Issued 15 March 2023]
Beijing Pioneer Hi-tech. Development Corporation Ltd. (BPC), in accordance with its exploration contract for polymetallic nodules signed with ISA on 18 October 2019, is offering five (5) at-sea onboard training opportunities to candidates from developing States within its 2023 training programme.
Programme Overview
The five training placements will be subdivided as follows: two trainees will focus on environmental surveys, two trainees on geological surveys and one trainee for geophysical surveys. The training will take place onboard BPC's 2023 Western Pacific cruise research vessel. Trainees will cruise with BCP's experts to their polymetallic nodule contract area located in the West Pacific Ocean. The programme is tentatively scheduled to start in early July 2023, for a duration of approximately 40 days.
1. Programme Content
During the exploration training period, systematic and theoretical training will be arranged for the trainees by senior scientific and technical personnel who specialize in all research areas involved in deep-sea mineral exploration and exploitation. This will be done mainly by holding small workshops with an emphasis on interaction between trainers and trainees. BPC will provide the trainees with the necessary resources for the training, such as teachers, teaching equipment, laboratory equipment and other necessary support resources.
Trainees, depending on their discipline, will cover geological and geophysical survey methods for polymetallic nodules resource exploration, as well as environmental survey research methods such as environmental baseline survey and sample analysis. They will also receive practical hands-on training related to deck operation, geological description, field chemical analysis and testing, and environmental investigation, etc.
2. Qualification Requirements
Education: candidates should hold a bachelor's degree in one of the related fields such as geology, geophysics, biology, environmental, mining engineering, mechanical engineering, metallurgical engineering, or equivalent educational background.
Experience: Have relevant scientific research or ocean management skills.
Language: A good command of the English (both written and spoken), attested by certificate where required.
Health: good physical and mental health.
Age: Under 45 years of age.
Trainees may be required to sign a confidentiality agreement with BCP.
3. Training Evaluation
Within one month after the end of the training, trainees will be required to submit a research report of no less than 6,000 words (in English) based on a research topic (TBD). These reports will be evaluated by a team composed of training instructors. The outcome of this report and the evaluation results will be submitted to the ISA as the results of the training. Trainees who are deemed to have passed the research report will be issued with graduation certificates. Additionally, BPC will conduct a feedback survey with trainees to evaluate the effectiveness of the training and gather any suggestions for improving the training activities.
 4. Cost Bearing
BPC will cover all the relevant costs associated with the training which include medical insurance, meals, accommodations, living allowances, and travel costs for transportation to and within China.
5. How to Apply
All interested applicants are invited to register through the ISA online portal through which they will submit their applications together with the necessary requested documents including:
A copy of current passport photo and valid passport biopage
Copy of degree/certificate
Copy of CV or Resume
Proof of sufficient knowledge of English, as required.
Nb. The selected candidates will be required to submit a medical certificate confirming the applicant's ability to work at sea and to board the exploration cruise signed by a licensed physician.
Application Deadline: 30 April 2023. Late or incomplete applications will not be processed.
One of the Voluntary Commitments registered by ISA at the 2017 UN Ocean Conference (#OceanAction 40768) and reiterated in 2022 was 'Enhancing the role of Women in Marine Scientific Research through Capacity Building' – As such suitably qualified women are encouraged to apply.
All queries concerning these two training programmes should be directed to training@isa.org.jm