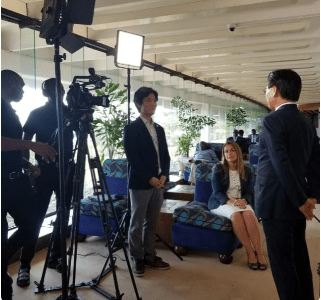 Media accreditation to cover ISA annual sessions and meetings is strictly reserved for members of the press (print, photo, radio, television, film, news agencies and online media) who represent a bona fide media organization. No media badge will be issued to journalists whose application does not conform to the established procedure.
ISA Communications Unit must be satisfied that the individuals applying for accreditation are professional journalists and represent bona fide media organizations formally registered as media organizations in a country recognized by the United Nations General Assembly. In addition, media organizations must have demonstrable editorial oversight and a verifiable street address and telephone number (P.O. Box will not be accepted).
Accreditation will only be given on proof of a track record of reporting for media organizations on environmental issues and/or international affairs.
Media accreditation is not accorded to the information outlets or advocacy publications of non-governmental organizations. ISA Communications Unit may require supplementary documentation to evaluate the request. Applications are considered on a case-by-case basis. The decisions of the Communications Unit are final. The Communications Unit reserves the right to deny or withdraw accreditation of journalists from media organizations whose activities run counter to the principles of the mandate of ISA.