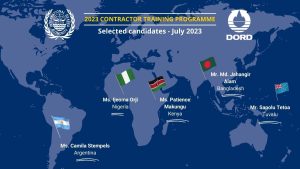 UPDATE (03 July 2023) The following candidates have been selected:
Rank
First Name
 

Surname

Gen.
Country
Country Class.
First ranked candidates
1
Md. Jahangir
Alam
Male
Bangladesh
LDC
2
Ijeoma
Orji
Female
Nigeria
3
Camila
Stempels Bautista
Female
Argentina
4
Patience
Makungu
Female
Kenya
5
Sapolu
Tetoa
Male
Tuvalu
LDC/SIDS
Reserve candidates
R1
Neema
Masinde
Female
United Republic of Tanzania
LDC
R2
Ayamezimi
Ehinlaiye
Male
Nigeria
R3
Eric
Yeboah
Male
Ghana
Issue Date: 15 March 2023
Deep Ocean Resources Development Co., Ltd. (DORD), in accordance with its exploration contract for polymetallic nodules signed with the International Seabed Authority (ISA) on 20 June 2001, is offering five (5) at-sea on-board training placements for candidates from developing States within its 2023 training programme.
Objectives and goals of the training programme
The objective of the training is to expose trainees to skills and techniques used for the exploration of deep-sea mineral resources.
The goal of the programme is for trainees to acquire basic planning skills for marine survey and on-board survey techniques.
DORD wish to deepen trainees' understanding of Japan's marine mineral resource development through the historical development and current status of Japan's domestic non-ferrous mining, smelting and refining business.
Contents of the training programme
The programme is planned to run for approximately 30-40 days between October and mid-December 2023 (Exact dates may be subjected to change due to prevailing COVID-19 measures undertaken by the Japanese Government. Candidates will be notified with as much prior notice as is possible).
The programme will be conducted in two phases:
Phase 1: At-sea training on-board a research vessel for a 10-day cruise survey. Training will include marine seismic reflection survey, marine geological survey using magnetometer and gravimeter, and marine geological mapping, as well as practical training on exploration technology of marine mineral resources.
Phase 2: On-land training for 20-30 days which will include tours of the facilities related to former mine sites, parts of the heritage that shows history of the Japanese industry; marine resource development such as marine geology and seabed mineral resources; as well as lectures by the experts in various field related to marine resource development.
General qualifications of candidates
Candidates must meet the following requirements:
Education: A bachelor, master's or doctoral degree in science or engineering in the relevant field of geology, geophysics, oceanography or have an equivalent educational background.
Professional Experience: At least one-year work experience in the candidate's field of specialization.
Language: Sufficient knowledge of English for daily conversation and training.
Health: Good mental and physical health, suitable to work at sea.
Age: Under 45 years of age.
Other: Seagoing experience (desirable).
 Cost-bearing
DORD will cover round-trip airfare (economy class) to Japan and provide travel insurance with transportation, meals onboard, accommodation, daily allowance according to Japanese law for travel expenses, as well as travel and medical insurance within the scope of the training plan in Japan.
Nb. Airline tickets once booked cannot be changed and the effective period of the Japanese visa will be fixed based on the dates of the tickets.
Other Requirements
Trainees shall be required to sign a confidentiality agreement with DORD. At the end of the training period, trainees are required to submit a report on the outcome of their training to DORD and ISA. Upon successful completion of the training, trainees will receive certificates of participation.
As of 6 January 2023, the Japanese government has been implementing the border measures for COVID-19, which require all travellers entering Japan to present a valid vaccination certificate or a valid certificate of inspection prior to entering Japan. All selected candidates are required to follow such measures effective at the time of implementation of the training programme.
How to apply:
All interested applicants are invited to register through the ISA online portal through which they will submit their applications together with the necessary requested documents including:
A copy of current passport photo and valid passport biopage
Copy of degree/certificate
Copy of CV or Resume
Proof of sufficient knowledge of English, as required.
Application Deadline: 31 May 2023. Late or incomplete applications will not be processed.
One of the Voluntary Commitments registered by ISA at the 2017 UN Ocean Conference (#OceanAction 40768). and reiterated in 2022 was 'Enhancing the role of Women in Marine Scientific Research through Capacity Building' – As partner of the Women in Deep-Sea Research project (WIDSR), DORD has pledged to allocate 50% of the training opportunities to qualified women applicants.