ISA-NIOF side event at UNFCCC COP27: Technological and scientific knowledge in support of prospecting marine mineral resources in the deep waters, including of the African countries
14 Nov 2022
Sharm El Sheikh, Egypt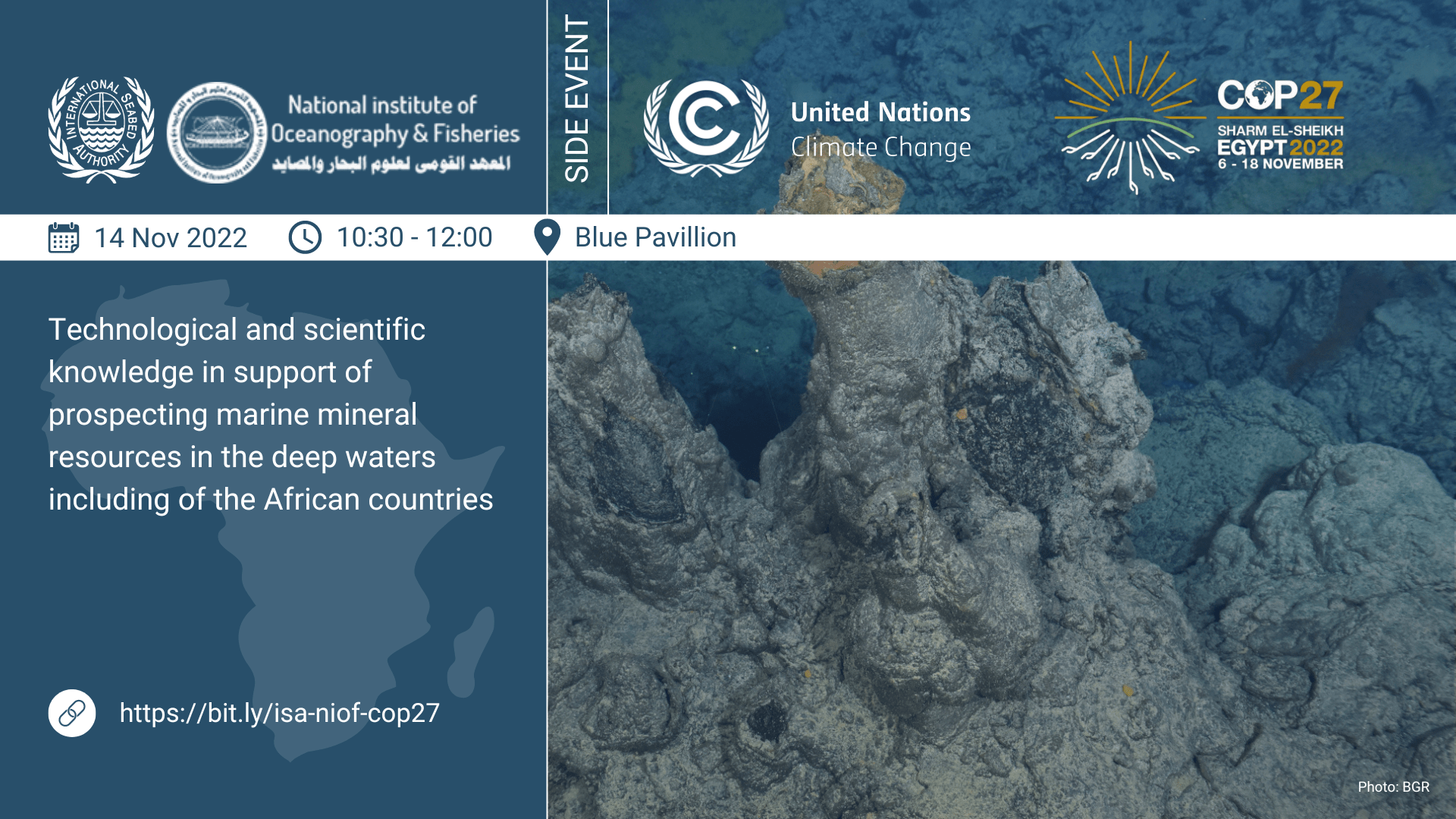 Organising partners
International Seabed Authority (ISA)
National Institute of Oceanography and Fisheries (NIOF) of Egypt
Background
An assessment by the International Energy Agency from March 2021 indicates that mineral demand for clean energy technologies would rise at least four times by 2040 to meet climate goals set in the Paris Agreement. An even faster transition would require six times more mineral inputs in 2040 than today to reach net zero globally by 2050. An inclusive and clean energy transition should be understood as an opportunity for countries to fight climate change and ensure the well-being of vulnerable populations while delivering on the Sustainable Development Goals.
The International Seabed Authority (ISA) has a broad mandate, which includes organizing and controlling all mineral-resources-related activities in the international seabed area (the Area), effective protection of the marine environment,  and promoting, disseminating, and analyzing the results of marine scientific research related to activities in the Area. ISA supports capacity-building initiatives. It provides national experts with technical skills on deep-seabed-related matters through its various programmes, including the Africa Deep Seabed Resources project implemented in partnership with the African Union.
Objectives
This event will raise awareness about the importance of the law of the sea and the potential of exploring for deep-sea minerals in the Area, especially for the African continent. It will focus on the importance of marine scientific research, technology and capacity-building to engage in deep-seabed exploration in the Area and promote sustainable use of the oceans, including the maritime areas around Africa. It aims to stimulate the dialogue among policymakers and the scientific community on the blue economy of Africa and the energy transition needed to achieve the targets set by the Paris Agreement.