World Oceans Day Celebrations
8 Jun 2023 - 8 Jun 2023
Virtual

On World Oceans Day this year, ISA celebrates deep-sea research and women scientists contributing to advancing global knowledge and understanding of the deep sea and its ecosystems.
As one of the three institutions established under UNCLOS, ISA is assigned with the exclusive and unique mandate to organize, regulate and control all activities related to mineral resources in the international seabed area (the Area) for the benefit of humankind as a whole. In so doing, ISA has the duty to ensure the effective protection of the marine environment from harmful effects that may arise from deep-seabed related activities. ISA also has the exclusive responsibility to promote and encourage marine scientific research in the Area and to coordinate the dissemination of the results.
Since December 2020, ISA has been leading the global agenda for deep-sea research endorsed by all 168 Member States structured around 6 strategic research priorities (ISA MSR Action Plan in support of the UN Decade of Ocean Science for Sustainable Development).
In 2021, ISA and UN-OHRLLS launched the Women in Deep-Sea Research (WIDSR) project. This pioneering initiative builds upon Voluntary Commitment #OceanAction40786 initially registered at the 2017 UN Ocean Conference, which aims to "Promote women empowerment and leadership in marine scientific research". The main goal of this initiative is to address the specific challenges faced by women scientists from developing States, particularly those hailing from small island developing States (SIDS), least developed countries (LDCs) and landlocked developing countries (LLDCs) in pursuing a career in deep-sea research.
On World Oceans Day 2023, ISA will highlight some of the key achievements of the WIDSR project, feature inspiring deep-sea women scientists and launch a new mentoring initiative "S.H.E. See Her Exceed".
Join us in celebrating the remarkable contributions of women scientists in the field of deep-sea research and foster their engagement and ascendance to leadership positions.
Programme
ONLINE
8:45-8:50

Opening remarks | On World Oceans Day 2023 ISA celebrates women scientists advancing deep-sea research

H.E. Mr. Michael W. Lodge, Secretary-General of the International Seabed Authority

8:50-9:00

Video | Key findings of the WIDSR report "Empowering women from LDCs, LLDCs and SIDS in deep-sea research",  women who are advancing deep-sea research and contractors that pledged to support gender parity

In June 2022, the Women in Deep-Sea Research project produced a report summarizing the key findings of a gender mapping exercise of the deep-sea research field and related disciplines and activities in LDCs, LLDCs and SIDS. Find out about the finding of the report, which are expected to stir up the discussion on ways to foster international and regional cooperation for concrete actions in support of women's empowerment and leadership in deep-sea research.

Meet inspiring women scientists who share their experience and work in various fields of deep-sea research.

Hear from some of the contractors that have pledged to allocate 50 per cent of training opportunities to qualified women whenever possible.

9:00-10.30
Webinar | Empowering women in deep ocean science – Launch of the WIDSR mentoring programme S.H.E. See Her Exceed
9:00 – 9:05

Welcome by moderator – Empowering women in deep-sea research  

Dr. Noémie Wouters, Programme Coordinator, marine scientific research, International Seabed Authority

9:05 – 9:15

High-level opening session | Fast-forwarding women representation in marine scientific research 

H.E. Mr. Michael Lodge, Secretary-General, International Seabed Authority
H.E. Ms. Rabab Fatima, High Representative for the Least Developed Countries, Landlocked Developing Countries and Small Island Developing States (video message)
Ms. Lucia Scheinkman, Diplomat, Ministry of Foreign Affairs, International Trade and Worship, Argentina

9:15 – 9:25

Leading from the front: ISA's commitment to women empowerment

Dr. Marie Bourrel-McKinnon, Chief of Staff & Head of Strategic Planning Unit, International Seabed Authority

9:25 – 9:30
VIDEO | The International Gender Champions network's Impact Group on Research and Oceans for Women (IGROW)
9:30 – 9:50

Introducing the WIDSR Mentoring Programme

Dr. Samantha Smith, Director of Blue Globe Solutions, President of the International Marine Minerals Society

9:50 – 10:10

Women in deep-sea research | Influence, impact and innovation

Panel discussion moderated by Dr. Noémie Wouters

Mr. José Dallo, Director, Office of Environmental Management and Mineral Resources, International Seabed Authority
Dr. Marzia Rovere, Senior Researcher, National Research Centre, Italy
Mr. Alan Evans, Head of Marine Policy, National Oceanography Centre, UK

10:10 – 10:25

Testimonial

Ms. Lucy Njue, Geologist, Geothermal Development Cooperation, Kenya

10:25 – 10:30

OFFICIAL LAUNCH: Call for mentees

Dr. Samantha Smith, Director of Blue Globe Solutions, President of the International Marine Minerals Society
10:30-11:00

Announcing the winners of the ISA 2023 art competition "Mysteries of the Abyss"

Discover the winners of ISA's art competition on the theme of "Mysteries of the Abyss" in two categories: international (over 16 years old) and local (school children under 16 in Jamaica)

11:00
Closing
IN KINGSTON, JAMAICA
Inspiring the next generation of ocean ambassadors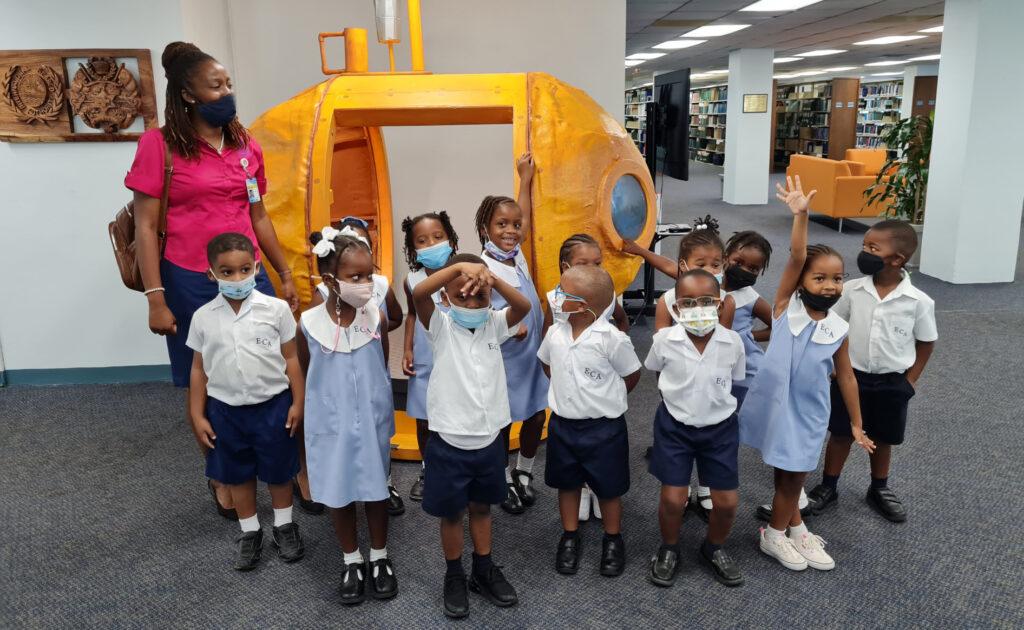 The ISA Secretariat receives school children at its headquarters in Kingston, where they embark on an enlightening journey to understand the vital role of science in supporting the precautionary approach and responsible management of the global commons. This immersive experience also highlights the immense potential of women and girls in shaping these endeavors.
They will participate in the ISA Wakatoon activity "Discover the seabed with Olivia." Joining deep-sea scientist Dr. Olivia aboard a submarine, they delve into the mysteries of the deep sea through interactive coloring pages. Each chapter of this captivating coloring book is thoughtfully designed to introduce young minds to the intricate complexities surrounding the management of over half of the world's ocean seabed.
In addition to this thrilling adventure, the children will be introduced to the "Life Under Water Pre-School Companion." This innovative educational tool serves as an inspiration, empowering children to actively participate in the conservation and sustainable use of our oceans. By increasing their knowledge of ocean health and instilling a sense of responsibility towards coastal and marine areas, this companion nurtures a deep understanding of the importance of preserving these precious resources.