Federal Institute for Geosciences and Natural Resources of the Federal Republic of Germany (BGR)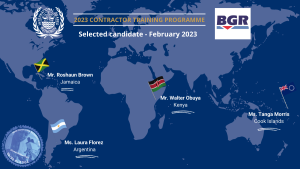 UPDATE (28 February 2023) The following candidates have been selected:
| | | | | | |
| --- | --- | --- | --- | --- | --- |
| Rank | First name | Surname | Gen. | Country | Country Class. |
| 1 | Tanga | Morris | F | Cook Islands | SIDS |
| 2 | Laura | Florez | F | Argentina | |
| 3 | Walter | Obuya | M | Kenya | |
| 4 | Roshaun | Brown | M | Jamaica | SIDS |
| R1 | Frankline | Oketch | M | Kenya | |
| R2 | Asmaa | Ferikh | F | Egypt | |
| R3 | Ahmed | Inal | M | Alegria | |
Issued 21 December 2022
The Federal Institute for Geosciences and Natural Resources of the Federal Republic of Germany (BGR), in accordance with its exploration contract for polymetallic nodules in the Indian Ocean signed with ISA in 2006, is offering four (4) at-sea and post cruise training placements to candidates from developing States in line with its 2023 training programme.  Two (2) placements will be geology based whilst the other two (2) will be biology focused.
The training will be comprised of two parts:
Part 1:  The exploration campaign which will take place on-board R/V KILO MOANA within the BGR polymetallic nodule contract area of the north-eastern Pacific Clarion-Clipperton Zone. The schedule dates are from 28 March to 14 May 2023, with port of call Honolulu (USA).
The major objectives of the cruise are the surveying, sampling and processing of manganese nodules, sediments and the water column for nodule resource evaluation, environmental studies (pore water and water geochemistry; oceanography) and benthic as well as pelagic biodiversity assessments.
The training will, inter alia, include: instructions on vessel and deep-sea equipment navigation techniques and the planning of an exploration survey; introduction into the different types of deep-sea research equipment used; sediment and nodule sampling, description and processing for the determination of e.g. shear strengths and metal concentrations; geochemical sampling of sediments, pore waters and bottom waters for later determination of trace metal concentrations in the home laboratories; oceanographic analysis of the water column and bottom waters based on CTD data as well as current data obtained from Ocean Bottom Moorings; sampling and processing of biological samples for both benthic and pelagic biodiversity studies, involving fauna of all size classes; as well as instructions on the use of geophysical mapping techniques (swath bathymetric profiling, sediment echo sounding).
Part 2: subsequent to the onboard training, trainees will visit BGR in Hannover, Germany for a four-week stay to work on the results of the cruise. The post-cruise training will, inter alia, consist of: an introduction into the laboratory facilities at BGR; sample processing for physical sediment properties (dry bulk density, porosity); geochemical analyses of sediment and water samples; grain size analytics; Interpretation of seafloor images; preliminary resource evaluation; visits to other research facilities in Germany, for example, the laboratories for analyses of biodiversity and geochemistry; a longer visit and training in deep-sea biodiversity assessments (morphological and genetic analyses) for the two biology trainees as stipulated below, thereby supporting the objectives of the ISA's SSKI initiative; scientific writing and reporting.
Candidates must meet the following general qualification requirements:
Education:
Two placements for candidates holding a qualified bachelor's or master's degree in marine biology or marine environmental sciences; and
Two placements for candidates holding a qualified bachelor's or master's degree in marine geology, geophysics or oceanography.
Experience: At least one year of practical experience in the candidate's field of specialisation.
Language: A sound knowledge of the English language, attested by a certificate.
Health: Good state of mental and physical health suitable for work at sea.
Recommended: seagoing experience (seaworthy).
BGR will cover all costs related to trainees' travel expenses to and from the harbours of embarkation and disembarkation as well as the stay in Hannover. This includes international travel expenses, economy class, accommodation, and daily allowance according to German law for travel expenses.
How to Apply:
All interested applicants are invited to register through the ISA online portal through which they will submit their applications together with the requested documents including:
A passport sized photo and copy of their passport biopage
Copy of degree or certificate
Updated CV
Proof of sufficient knowledge of English.
If selected, the trainee will be required to submit a physical examination report, signed by licensed physician, stating that the trainee is physically fit for the length of training on-board.
Application Deadline: 31 January 2023
One of the Voluntary Commitments registered by ISA at the 2017 UN Ocean Conference (#OceanAction 40768). and reiterated in 2022 was 'Enhancing the role of Women in Marine Scientific Research through Capacity Building' – As partner of the Women in Deep-Sea Research (WIDSR) project, BGR has pledged to allocate 50% of the training opportunities to qualified women applicants.