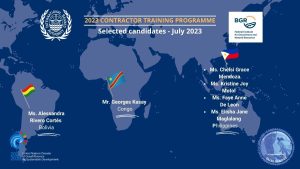 UPDATE (06 July 2023) The following candidates have been selected:
Rank
First Name
Surname
Gen.
Country
Country Class.
First Ranked Candidates
1
Chelsi Grace
Mendoza
Female
Philippines
2
Kristine Joy
Motol
Female
Philippines
3
Georges
Kasay
Male
Congo
4
Alessandra
Rivero Cortés
Female
Bolivia (Purinational State of)
LLDC
Reserves or Alternate Candidates
R1
Sundi
Malomo
Female
Tanzania
LDC
R2
Ayamezimi
Ehinlaiye
Male
Nigeria
R3
Godwin
Mnyika
Male
Kenya
Issue date: 3 April 2023
The Federal Institute for Geosciences and Natural Resources of the Federal Republic of Germany (BGR), in accordance with its exploration contract for polymetallic sulphides signed with ISA on 6 May 2015, is offering four (4) at-sea and post cruise training opportunities for candidates from developing States within its 2023 training programme.
The training is divided into two stages:
Part 1: Candidates will participate in an exploration cruise onboard RV Sonne to the German contract area in the Indian Ocean. The cruise is planned to take place from 28 September to 18 November 2023 for a duration of 49 days at sea (including roundtrip transit from port of call to working area, plus 4 days in harbour). Port of call is Port Louis, Mauritius. Specific details for the cruise will be communicated to the trainees with sufficient lead time.
The major objectives of the cruise are:
Recovery, maintenance and re-deployment of five sediment trap moorings in different parts of the contract area including first onboard processing of samples and data.
High-resolution bathymetric mapping of the seafloor and the near-bottom water column in search for new hydrothermal systems using the BGR-own deep-towed bathymetric sled / sensor platform Homeside.
Detailed geological and biological mapping and sampling of known and new hydrothermal systems (both active and inactive) using a remotely operated vehicle equipped with rock and sediment sampling tools (manipulators and push cores), a fluid sampling system, and a vertical temperature probe.
Systematic shallow subsurface sampling in the hydrothermal fields using a gravity corer (for hydrothermal sediments) and a rock drill mounted to the ROV (for hard rocks).
Systematic near-bottom water sampling within different hydrothermal fields for meta-barcoding and eDNA investigations as part of environmental baseline studies.
Deployment of fish traps equipped with a time-lapse still camera for 24 hours in different hydrothermal fields and outside of them as part of the environmental baseline studies.
First onboard analyses of rock and sediment samples using mobile XRF, XRD and SEM tools, first microscopic investigations of the meiobenthos, and systematic organization of all cruise data in an ArcGIS Pro project.
During the cruise, trainees will be integrated into different station work to get experience on all facets of an exploration cruise. They will also receive training on:
Vessel navigation techniques and planning of an exploration survey.
Preparation, on-board handling, and deployment of specialized geological and biological instruments.
Data handling and storage, data quality control.
Processing of data and samples onboard.
General aspects of work and environmental safety at sea.
Part 2: Subsequent to the onboard training, trainees will visit BGR, Hannover in spring/summer 2024 for a four-week post-cruise training to work on the results of the cruise. The programme will also cover:
Introduction into laboratory facilities at the BGR and other German research institutions (including biological labs and processing of bathymetric data).
Introduction into sample preparation and different analytical methods such as ICP, XRF, electron microprobe analysis (EMPA), scanning electron microscopy, Laser-ablation ICPMS etc.
Geochemical modelling, data interpretation and reporting.
Exemplary work on selected data samples under supervision.
Compilation of the cruise report and preliminary resource evaluation.
Qualification requirements:
Candidates must meet the following requirements:
Education: A bachelor's /master's degree in marine geology, marine biology or experience and/or education in terrestrial volcanic-hosted massive sulphides deposits.
Experience: At least one-year practical experience in the candidate's field of specialization.
Language: A sound knowledge of English attested by a certificate, where applicable.
Health: Good state of health, suitable to work at sea.
Recommended: seagoing experience (seaworthy).
Proof of full vaccination against Covid-19 according to German law (three shots with a vaccine recognized in the EU).
Cost bearing:
BGR undertakes to cover roundtrip travel expenses (economy class) to port of call and Hannover, Germany, accommodation and daily allowance according to the governmental regulations of the Federal German law for travel expenses.
Trainees will be required to sign a confidentiality agreement with BGR. At the end of the training, trainees will be required to submit a report to BGR and ISA on the outcome of the training completed; the benefits and knowledge gained; and how the training will advance their career and/or education. Trainees will also receive certificates upon successful completion of the programme.
How to Apply:
All interested applicants are invited to register through the ISA online portal through which they will submit their applications together with the necessary requested documents including:
A copy of current passport photo and valid passport biopage.
Copy of degree and other certifications.
Copy of CV or Resume.
Proof of sufficient knowledge of English, attested by certificate if language of study was not English.
If selected, the trainee will be required to submit a medical certificate confirming their ability to work at-sea onboard an exploration cruise signed by a licensed physician. As well as proof of COVID-19 vaccination.
Application Deadline: 5 June 2023. Late or incomplete applications will not be processed.
 One of the Voluntary Commitments registered by ISA at the 2017 UN Ocean Conference (#OceanAction 40768) and reiterated in 2022 was 'Enhancing the role of Women in Marine Scientific Research through Capacity Building' – As partner of the Women in Deep-Sea Research project (WIDSR), BGR has pledged to allocate 50% of the training opportunities to qualified women applicants.
All queries concerning these two training programmes should be directed to training@isa.org.jm