Government of the Republic of Poland
The manual application forms for training have been phased out. All applications should be completed using the web form. Applicants are required to use the online portal to submit applications together with a copy of your passport photo, the signed nomination form indicating preference for either the geological or environmental programme, degree/certificate and résumé.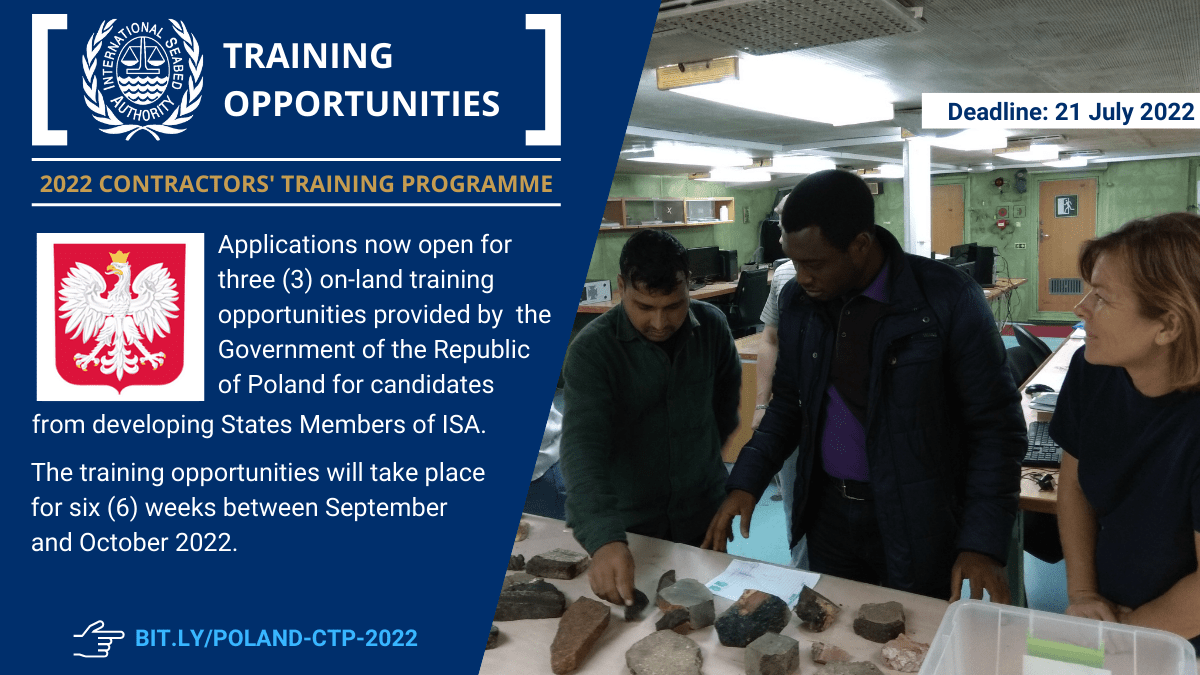 Issued 21 June 2022
The Government of the Republic of Poland pursuant to its contract for exploration for polymetallic sulphides signed with ISA on 12 February 2018 is offering three (3) on-land training opportunities for candidates from developing States between September and October 2022. Selected candidates will engage in six (6) weeks training in the field of deep-sea marine minerals to equip them with skills and competences necessary for the integration, processing and analysis of material and data collected during the research cruises.
Description of the training programme
The training programme will be organized by the Poland Polish Geological Institute-National Research Institute, Warsaw, Poland in cooperation with: Natural Sciences Education and Research Centre, University of Szczecin, Poland; Interoceanmetal, Szczecin, Poland; and the University of Chemistry and Technology, Prague, Czech Republic. Candidates will therefore travel to both countries in order to complete the training.
The training will be divided into two parts as follows:
Part I: Introduction to marine mineral exploration and exploitation
This part will focus on the legal, environmental and technological aspects of marine minerals exploration and exploitation under UNCLOS and other relevant documents constituting the regulatory framework of all activities in the Area.
Participants will take part in lectures, seminars and hands-on exercises (including case studies and laboratory training). This knowledge and skills developed in this part will be the basis for Part 2 of the training.
Part 2: Laboratory work and scientific techniques for marine minerals analysis and metallurgical processing
This part will focus on technological aspects of marine minerals exploration and exploitation.
Participants will take part in all stages of laboratory works, including analysis and interpretation of results.
The skills developed during this part of the training will be tailored to the participants' professional capacity (based on their background) and laboratory capabilities.
Requirements
Candidates must meet the following requirements:
Education: Bachelor or Engineering degree in natural sciences, applied sciences, technology or engineering.
Work experience: at least one year of experience in their field of specialization.
Language: sufficient knowledge of English attested by a certificate as required;
Health: proof of being in good mental and physical health;
Visa Requirements: Eligibility to apply for a Schengen visa;
Age: under 40 years old
Financial Conditions
The Government of the Republic of Poland will cover the following costs: international airfare (economy class), local travel within the scope of the official programme according to the current official travel cost regulations adopted in Poland and Czech Republic; costs for accommodation during any part of the training, meals and daily allowance; health insurance (for territories of Poland and Czech Republic); costs of COVID-19 tests (if required); and tuition costs.
Other information 
The trainees will be required to sign a confidentiality agreement with the Contractor and submit reports on the outcome of their training to the Contractor and ISA.
Applications should be submitted by the 21 July 2022 deadline through:
the online training portal. Users applying through the online portal (see below), must remember to upload a copy of a passport photo, the signed nomination form, degree/certificate, résumé/CV and other supporting document; OR
via email to training@isa.org.jm using the forms below.
Applications must be accompanied by:
Copy of degree certificate
Proof of sufficient knowledge of English; and
Copy of CV or Résumé.
One of the Voluntary Commitments that the ISA made at the UN Ocean Conference 2017 was 'Enhancing the role of Women in Marine Scientific Research through Capacity Building' – we therefore strongly encourage suitably qualified females to apply for these training opportunities.