Ifremer 2022 - PMS Training Programme
The manual application forms for training have been phased out. All applications should be completed using the web form. Applicants are required to use the online portal to submit applications together with a copy of your passport photo, the signed nomination form indicating preference for either the geological or environmental programme, degree/certificate and résumé.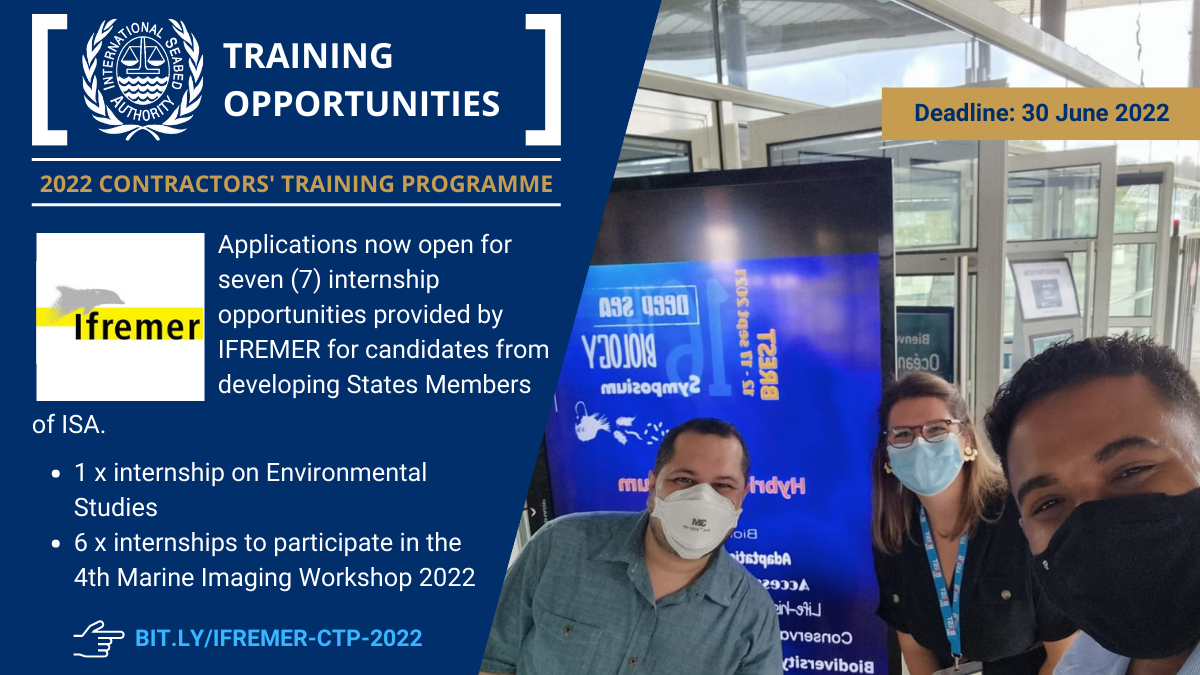 UPDATE (15 July 2022) The following candidates have been selected for the training placement:
| | | | | | | |
| --- | --- | --- | --- | --- | --- | --- |
| Rank | First name | Surname | Gen. | Country | Regional Grouping | Country Class. |
| 1 |  Chidinma Jecinta | Nwoko | F | Nigeria | African | |
| 2 | Thamsanqa | Wanda | M | South Africa | African | |
| 3 | Kiamuke | Itiowe | M | Nigeria | African | |
| 4 | Francis Ngonyo | Gandi | M | Kenya | African | |
| 5 | Ndeenda | Ekandjo | F | Namibia | African | |
| 6 | Solomon | Mordi | M | Nigeria | African | |
| R1 | Popoola Samuel | Olatunde | M | Nigeria | African | |
| R2 | Joel | Amosun | M | Nigeria | African | |
Issue date: 3 May 2022
Ifremer (Institut français de recherche pour l'exploitation de la mer) in accordance with its contract for exploration for polymetallic sulphides signed with ISA on 18 November 2014 is offering six (6) internships to candidates from developing States to participate in the 4th Marine Imaging Workshop 2022. This training will be held over a five-day period in Brest, France from 3 to 7 of October 2022.
The international Marine Imaging Workshops assemble around 100 scientists and engineers from different disciplines to push the boundaries of marine imaging. Biologists, ecologists, computer scientists, end-users and stakeholders discuss the methods and procedures for optimising the ways we harvest information through images. Topics cover everything from the start to finish of marine image analysis: acquisition planning, image collection, processing of images prior to annotation, still/video annotation, the future of annotation, FAIR image data management and much more.
Several topics will be presented and explored during this event:
Scientific advancements in biology and geology using (underwater) imagery data
Platforms, optical sensors and (underwater) image acquisition
(Underwater) image calibration and pre-processing
Automated image processing
Tools for image annotation
Quality control in imagery data, from acquisition to analysis
Tools and standards for managing and sharing imagery data
Candidates must meet the following requirements:
Education: As a minimum requirement, candidates should hold a bachelor/master's degree of science in the relevant field of biology, geology, geochemistry, geophysics, oceanography or have an equivalent educational background.
Language: Proficiency English (written and spoken).
Ifremer will cover the following costs: international airfare (return ticket in economy class); accommodation and meals as well as local transportation in France, if required.
Trainees will be required to sign a confidentiality agreement with Ifremer.  At the end of the training, trainees will be required to submit a report to Ifremer and ISA outlining the training completed; the benefits of the training opportunity; the knowledge gained; and how the training will advance their career and or education. Trainees will also receive certificates.
Applications should be submitted by the 30 June 2022 deadline through:
the online training portal. Users applying through the online portal, must remember to upload a copy of a passport photo, the signed nomination form, degree/certificate, résumé/CV and other supporting document (see below); OR
via email, in one of the official languages of ISA, to training@isa.org.jm using the forms below.
Applications must be accompanied by:
Copy of degree certificate;
Proof of sufficient knowledge of English or French; and
Copy of CV or Résumé.
One of the Voluntary Commitments that the ISA made at the UN Ocean Conference 2017 was 'Enhancing the role of Women in Marine Scientific Research through Capacity Building' – we therefore strongly encourage suitably qualified females to apply for these training opportunities.