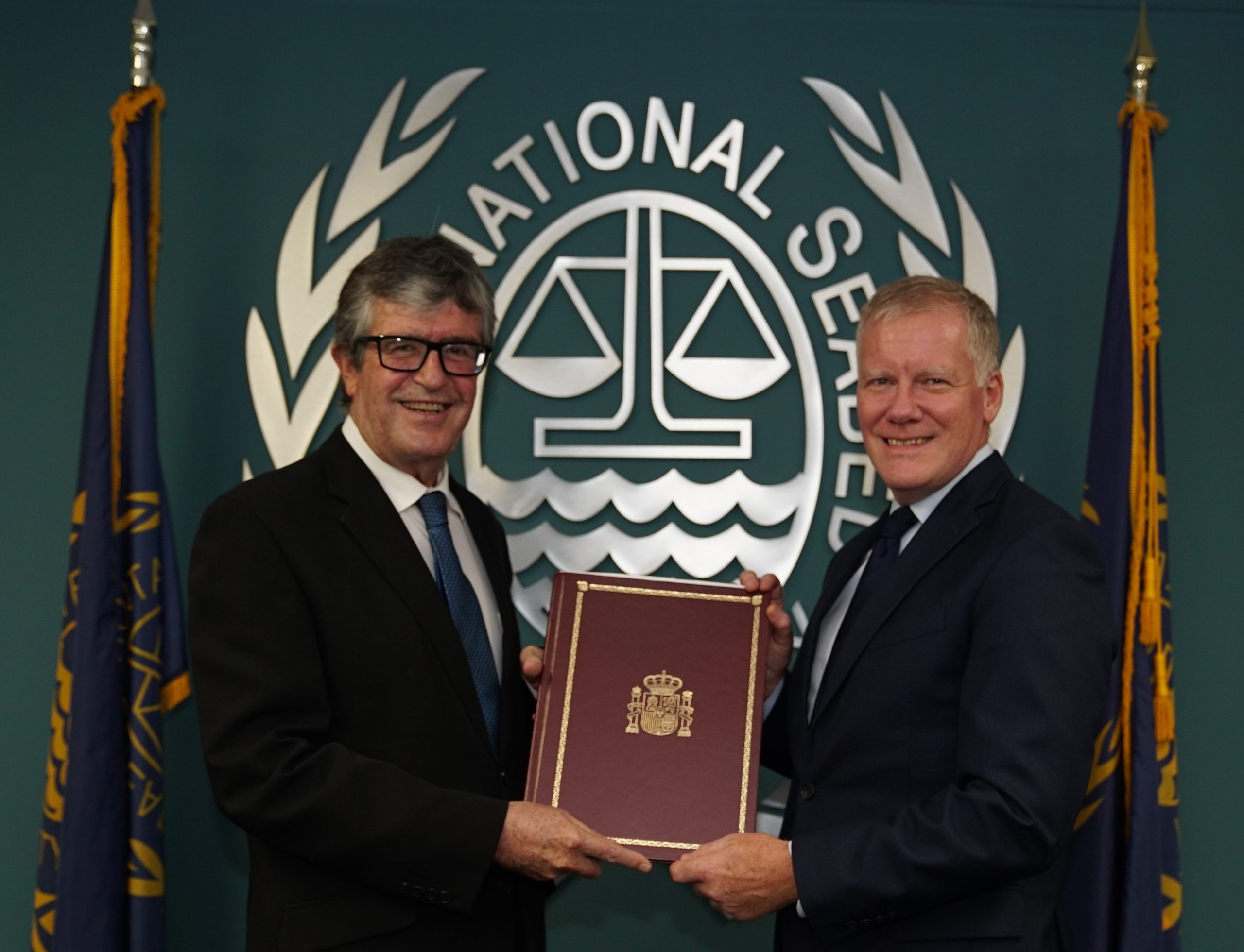 Today, the new Permanent Representative of Spain to the International Seabed Authority (ISA), H.E. Mr. Diego Bermejo Romero de Terreros, presented his credentials to ISA Secretary-General H.E. Mr. Michael W. Lodge during a ceremony held at ISA Secretariat in Kingston.
Ambassador Bermejo reaffirming Spain's commitment to the work of the Authority, stated: "Spain is an active member of the Authority and in my capacity as its Permanent Representative, I intend to continue contributing to the fulfillment of its mandate at this crucial moment for ISA." He added: "Under my tenure, Spain will continue working towards the adoption of regulations on the exploration and exploitation of marine resources which guarantee the effective protection of the marine environment, as well as for fair and equitable management of the resources of the Area."
Secretary-General Lodge welcomed Ambassador Bermejo as the new Permanent Representative of Spain and said: "I am happy to take note of the unwavering support of Spain and I look forward to a productive relationship to advance the work of the organization."
Mr. Bermejo is the Ambassador of Spain to Jamaica. Prior to this appointment, Mr. Bermejo served twice as Ambassador on a special mission for the Ibero-American Summits and the Ibero-American Space (2017-2020 and 2011-2013) and was Ambassador of Spain to the Republic of Paraguay between 2013 and 2017 and to the Dominican Republic between 2008 and 2011.
A career diplomat, Ambassador Bermejo entered the Foreign Service of Spain in 1982. He served as First Secretary of the Embassy of Spain in Harare (1982-1985), as Deputy Head of Mission in the Embassy of Spain in El Salvador (1985-1988), as Secretary of the Embassy of Spain in Portugal (1988-1991), as Deputy Chief of Mission in the Embassy of Spain in Paris (2003-2008) and as Consul General of Spain in Santo Domingo (2008 -2011).
During his stay at the Central Services, he held the positions of advisory member for relations with Latin America in the Presidency of the Government (1991-1996) and, in special services, Director of the Ombudsman's Office (1996-1999).
Mr. Bermejo holds a Degree in Law and a Diploma in International Studies from the Diplomatic School of Spain.
For media enquiries, please contact:
Ms. Stefanie Neno, Communications Specialist, ISA, sneno@isa.org.jm
—————
For more information visit our website www.isa.org.jm or follow us on Twitter @ISBAHQ