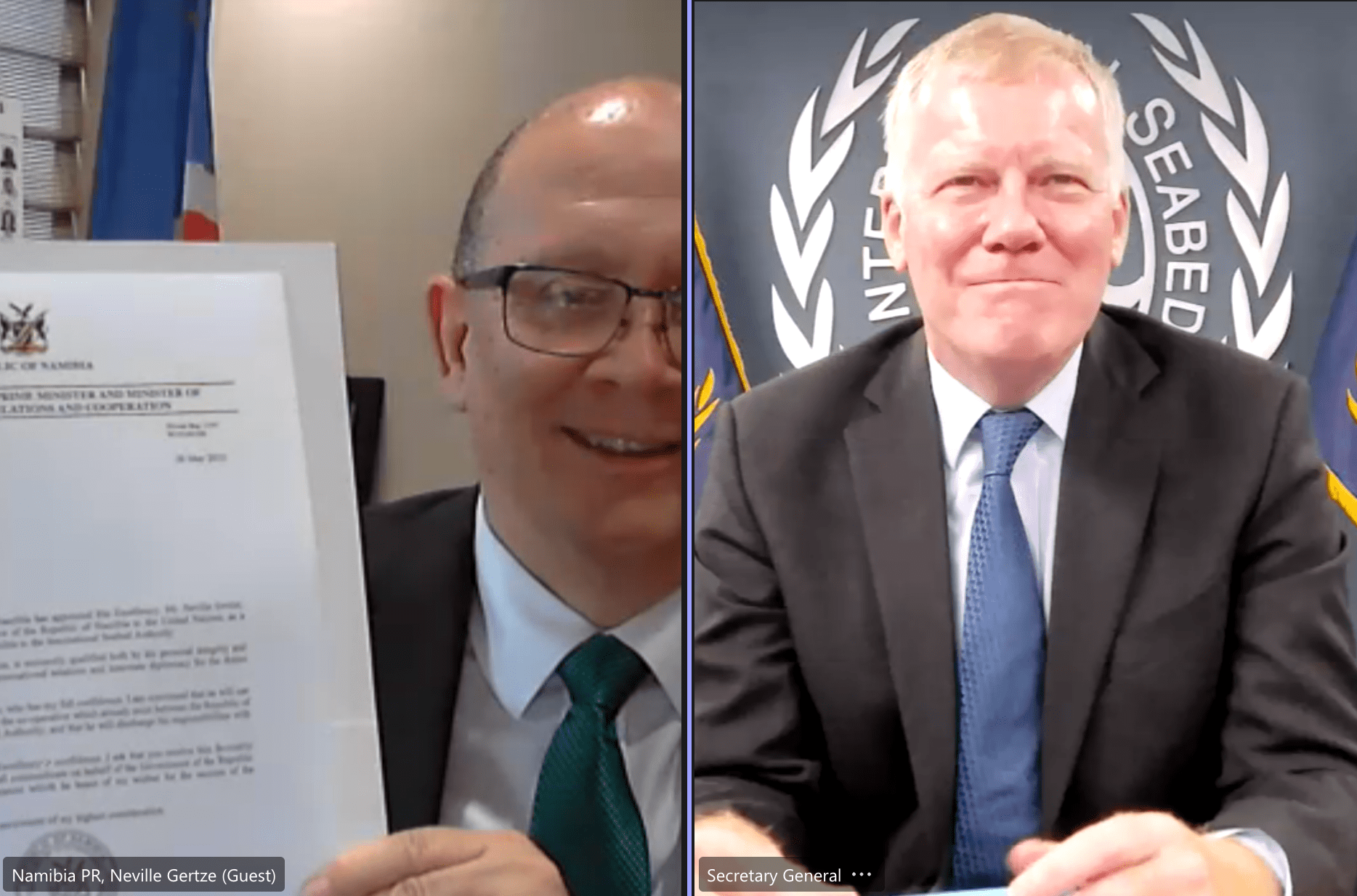 The Permanent Representative of Namibia to the International Seabed Authority (ISA) and to the United Nations, H.E. Mr. Neville Melvin Gertze, presented his credentials to ISA Secretary-General, H.E. Mr. Michael W. Lodge, during a virtual ceremony held on Wednesday.
Ambassador Gertz is a career diplomat with over thirty years of experience. He has been the Permanent Representative of Namibia to the United Nations in New York since 2016 and became Permanent Representative to ISA in May 2021.
"As a country whose economy is heavily reliant on the ocean, it is important that all seabed mining activities are carefully managed, in a manner that takes into account the intricate balance between activities in the Area and the Sustainable Development Goals. Namibia looks forward to working with ISA towards this objective," Ambassador Gertz said during the ceremony.
Secretary-General Lodge welcomed Ambassador Gertze as the new Permanent Representative of Namibia to ISA. "It is a great pleasure to welcome back Namibia as an active member of the Authority and I am confident that through its engagement, Namibia will contribute significantly to advancing the work of the Authority particularly in relation to the development of the necessary regulatory framework for exploitation, based on lessons learnt, best industry practice, adaptive management and the implementation of the precautionary approach," he said.
Prior to this assignment, Mr. Gertze served as Chief of Protocol of the Republic of Namibia (2015 – 2016) after serving as Ambassador of Namibia to Germany, the Holy See, Poland and Turkey (2009 – 2015), and the Philippines and Thailand (2008). Ambassador Gertze also served as High Commissioner to Malaysia (2003 to 2008) and as Commercial Counsellor to South Africa (1997 – 2003).
Mr. Gertze holds a bachelor's degree in public administration and political science from the University of Cape Town and a master's degree in business administration from Midrand Graduate Institute in Johannesburg.
For media enquiries, please contact:
Ms. Stefanie Neno, Communications Specialist, ISA, sneno@isa.org.jm