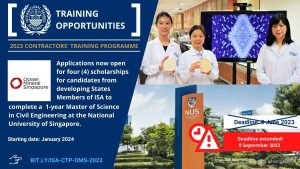 Issue Date: 30 March 2023
Ocean Mineral Singapore Pte. Ltd. (OMS) pursuant to its contract for the exploration for polymetallic nodules signed with ISA on 22 January 2015 is offering four (4) Master of Science Fellowships to candidates from developing States under its 2023 training programme.
The fellowships will allow candidates to pursue a full-time, 1-year Master of Science (Civil Engineering) with focus on Ocean Infrastructure and Renewables at the National University of Singapore (NUS). In addition to the fellowships, candidates will benefit from a 2-months industry internship.
Programme Details
1. Master of Science (Civil Engineering) with focus on Ocean Infrastructure and Renewables
The Programme is designed for professionals who are working in the civil engineering and built environment. Intake for this fellowship programme is January 2024 at NUS. Students will acquire advanced and in-depth knowledge to enable an intellectual broadening across the disciplines of civil engineering, keep abreast of innovations and emerging technologies in the civil engineering sector, and integrate knowledge and skills for Industry 4.0 transformation of the built environment.
Climate change is and will be an existential threat for many years to come. For candidates who wish to focus on ocean infrastructure and renewable energy, they will learn ocean environmental loads, offshore foundation systems, subsea construction & operational support, etc.
To qualify for the MSc (CE) degree without a specialization, a candidate must successfully complete a program of study consisting of 40 Modular Credits (MCs). In addition, a student must obtain a minimum Cumulative Average Point (CAP) of 3.00 (equivalent to an average of grade of B-) for the 40 MCs (inclusive of core / compulsory modules, where required).
For candidates who wish to focus on Ocean Infrastructure and Renewable Energy, the following modules can be considered for selection towards the MSc (CE) degree requirement:
(The description of each module can be found here.)
Module code
Module title
Modular Credit
Modules highly relevant to ocean infrastructure and renewables
CE5716
Introduction to Ocean Infrastructures & Renewables
2
CE5717
Mooring and Cables for Ocean Infrastructure
2
CE5001
Research Project
8
CE5721QA
Ocean Wind and Wave
2
CE5721QB
Ocean Environmental Loads
2
OT5301
Subsea Systems Engineering
4
OT5304
Subsea Construction & Operational Support
4
Total MCs
24
Module code
Module title
Modular Credit
Modules useful for ocean infrastructure and renewables
CE5010QA
Finite Element Concepts & Applications
2
CE5010QB
Finite Element Analysis for Civil Engineering
2
CE5516A
Structural Stability Concepts & Applications
2
CE5516B
Structural Dynamics Concepts & Applications
2
CE5604
Advanced Concrete Technology
4
CE5513
Plastic analysis of structures
4
CE5809
Management and Economics of International Construction
4
CE5101
Seepage & Consolidation of Soils
4
CE5310
Hydroinformatics
4
CE5315
Climate Science for Engineers
4
Total MCs
32
Entry requirements for NUS:
Nb. In general, there are 2 intakes per year at NUS but for this scholarship would be the January 2024 intake; application period generally opens 6 months prior.
Candidates should meet the entry requirements for NUS, including demonstrating the ability to read and write in English.
Education:  A Bachelor's degree with honours or its equivalent in Civil Engineering or related discipline in the Built Environment, from an institution of recognized standing.
Language:  If the applicant's degree is from an institution where the medium of instruction is not English, TOEFL and/or IELTS requirement applies
Other: Selection is on a competitive basis. Relevant work experience and/or industry recognized certifications will be considered favourably.
2. Two-Month Industry Internship
OMS will also sponsor and provide the four selected candidates with a two-month industry internship at a Singapore Shipyard to enhance their practical experiences. For the internship, candidates will be required to sign a confidentiality agreement with OMS.
Reporting requirements:
The candidates will provide, in parallel to the final research project, satisfactory periodical (per semester) written reports with presentation on the progress and outcome of the MSc programme to both OMS and written reports to ISA.
Cost Bearing:
OMS will bear the relevant costs associated with the MSc training programmes and the industry internship period, such as application fees, visa and student pass fees, tuition fees, air tickets (2 ways) and an allowance for living expenses for the period of training programme.
How to apply for the Fellowship:
All interested applicants are invited to register through the ISA online portal through which they will submit their applications together with the necessary requested documents including:
A copy of their passport photo and passport biopage;
Copy of degree/certificate;
CV;
Proof of meeting the academic, and language requirements of the master's programme; and
Two recommendations letters.
 Application Deadline: 9 September 2023. Late or incomplete applications will not be processed.
One of the Voluntary Commitments registered by ISA at the 2017 UN Ocean Conference (#OceanAction 40768) and reiterated in 2022 was 'Enhancing the role of Women in Marine Scientific Research through Capacity Building', OMS supports this commitment, and strongly encourages qualified women to apply for these training opportunities.
All queries concerning the training programme should be directed to training@isa.org.jm