Issue date: 9 August 2023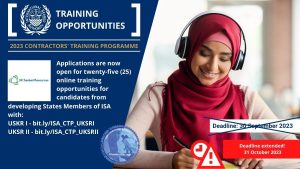 UK Seabed Resources Ltd. (UKSR I) pursuant to its contract for exploration for polymetallic nodules signed with ISA in 2013 is offering eight (8) training opportunities for candidates from developing States as part of its 2023 training programme.
Overview of the Programme
UKSR I in collaboration with the National Oceanography Centre (NOC) https://noc.ac.uk/science/research-areas/ocean-biogeosciences will be offering an online training course covering key aspects of deep-sea mining. The course provides approximately 30 hours of learning and will be available for completion by selected candidates over a 6 to 8 weeks period. The training is scheduled to commence in Q4 of 2023. [Exact dates will be confirmed and communicated to candidates with sufficient time to prepare.]
Training Course Objectives
The course has been developed by the Ocean Bio geosciences Group at NOC in conjunction with other experts from the organization to provide the highest standard of scientific content for candidates. It is aimed at providing an objective and evidence-based introduction to the main areas of the upstream deep-sea mining value-chain, from exploration, site characterization, regulations, environmental considerations and operations technologies. There are four main objectives for the course:
To provide candidates with a blended learning experience; short video lectures, real-world examples, live, online Q&A, offline reading, desktop case-study.
To provide an accessible and easily understood introduction to the critical areas of deep-sea mining ensuring that the course content is as clear and understandable to candidates with a range of academic and non-academic background.
To ensure that the course provides a science-based objective view of deep-sea mining and does not endorse or oppose deep-sea mining and is based on the most relevant science as determined by world-leading experts.
To give candidates the understanding and confidence to be able to interact with the deep-sea mining sector and those individuals and organizations that work in it to a reasonable technical standard.
Training Course Content & Delivery Method
Training Content:

9 Modules covering the following topics:

Methodology:

Self-paced Online e-learning platform. Modules delivered through:

· An introduction to seabed minerals.

· The regulatory landscape & UNCLOS.

· Responsible ocean stewardship.

· Exploration, deposit assessment and production.

· The international mining code & progressing from resource to reserve.

· Extraction methods and technology.

· The wider deep-sea environment.

· Environmental sustainability.

· Practical case study; constructing a deep-sea mining value chain.

· Video lectures – short lectures sessions delivered by NOC scientists using visual aids, where appropriate.

· Suggested background reading lists.

· Video content from real world deep-sea mining operations.

· Data and analysis tools.

· Case study learning.

· Short quizzes to test learning.

· Live, scheduled Q&A sessions.
Scholarship Conditions
UKSR commits to covering the expenses related to the tuition fees required to access the programme. Candidates must access and complete the course work within the approved 6 to 8 weeks window/period.
At the end of the training, trainees will be required to submit a report to UKSR and ISA on the outcome of the training completed; the benefits and knowledge gained; and how the training will advance their career and/or education. Trainees will also receive certificates upon successful completion of the programme.
Satisfactory completion entails attaining a score of 85% or higher on each of the module quiz. Furthermore, trainees must submit administered coursework and participate in live Q&A sessions with NOC tutors.
Requirements
Candidates must meet the following requirements:
Education: As a minimum requirement, candidates should hold a bachelor's degree-level education in a science, engineering, mathematics or technology discipline or a minimum of 5 years in a technical role in their career.
Work experience: The course would be suitable for anyone who:
Has experience in the terrestrial mining or offshore industry sector and is looking to expand their knowledge of deep-sea mining.
Works in the offshore regulation and governance sector.
Has a requirement to understand the deep-sea mining sector as part of their career development.
Is looking to broaden their scientific and technical understanding outside of their main field of expertise.
Wants to understand the deep-sea mining sector and how it relates to their region or national interest.
Language: sufficient knowledge of English attested by a certificate if language of study was not English.
Age: under 45 years old
Technology: Candidates must have access to laptops and reliable internet connection. In instances where candidates are unable to access the online learning platform, other course delivery options will be made available.
How to Apply:
All interested applicants are invited to register through the ISA online portal through which they will submit their applications together with the requested documents including:
A passport sized photo and copy of their passport biopage
Copy of degree or certificate
Copy of CV or Resumé
Proof of sufficient knowledge of English
A Statement briefly outlining the following:
Your motivations for wanting to undertake the course;
What are your objectives from the course; and
How the course is relevant to your future aspirations and ambitions.
Application Deadline: 31 October 2023. Late or incomplete applications will not be processed.
"One of the Voluntary Commitments registered by ISA at the 2017 UN Ocean Conference (#OceanAction 40768) and reiterated in 2022 was 'Enhancing the role of Women in Marine Scientific Research through Capacity Building' – As partner of the Women in Deep-Sea Research project (WIDSR), UKSR has pledged to allocate 50% of the training opportunities to qualified women applicants."
All queries concerning the training programme should be directed to training@isa.org.jm